What is the necessity of WEEE registration?
For some manufacturers of electronic equipment, if they want to sell their products abroad, they need to register WEEE. What are the necessities of WEEE registration? Now let's give you a detailed introduction, hoping to help you.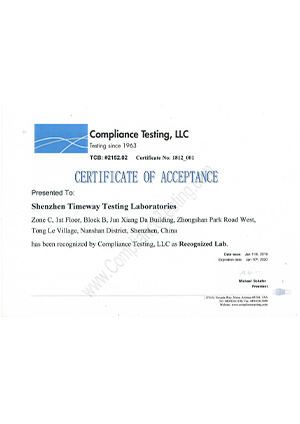 First of all, we should be clear about the WEEE certification, which is actually the recycling instruction of discarded electronic and electrical equipment. In order to properly dispose of these huge quantities of electronic and electrical wastes, the EU also recycles precious resources. In 2002, it passed two directives that have a significant impact on electronic and electrical equipment products, namely WEEE and RoHS directives (EU environmental protection directives).
In 2016, the state promulgated a relevant law, which is aimed at the e-commerce industry. Amazon is required to notify overseas e-commerce companies selling on its platform to register electronic devices for recycling. Before obtaining the WEEE electronic device recycling code, Amazon will order businesses to stop selling.
However, it should be noted that not all products need WEEE certification, but for individual products. WEEE registration is mainly for a category of products. According to official data, WEEE Directive is applicable to 10 categories of electronic and electrical products: large household appliances; Small household appliances, etc.
Which countries need WEEE registration? If you want to do external e-commerce, you need to understand this clearly. Germany, Britain, France, Italy, Spain, Sweden, the Netherlands, Denmark, Portugal, Poland, Belgium, Finland, Luxembourg, Austria, Ireland, etc. have strict requirements for this.
Many customers have doubts about this, so they ask, is it necessary to register WEEE? At present, Amazon has implemented a policy of forced closure for companies selling cross-border e-commerce. Without a WEEE registration code, products will be forced off the shelves. In all European countries, Germany has strict environmental protection requirements, so Germany WEEE should do it!
If a business does not register WEEE, it will bring some negative consequences. If a business does not register WEEE, it may be easier for Amazon to block Listing, which will have a large negative impact on the business.
If it is serious, even if the merchant sells well and is targeted by the competitor, the product is not printed with a trash can with a slash, or the product is not registered in Germany for recycling, the competitor will entrust a German lawyer to send a letter to Amazon, requesting to stop selling the company's products, and apply for court proceedings to destroy all the company's products in Amazon.
Through the above detailed introduction, I believe you have a certain understanding of the necessity of WEEE registration. If you want to sell products to the countries described above, you need to register WEEE first, which is also an effective way to protect customers. If you want to do a good job in the cross-border e-commerce industry, you can't ignore these details.
Recommended News